Safely Enjoy the Summer Sun
By Tracy Carpenter Sepich, O.D., M.S.
Safely Enjoy the Summer Sun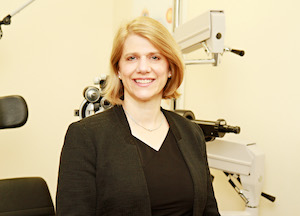 Summer is finally here and all the outdoor activities that come with it. We all want to enjoy the sun, but what are some of the steps we need to take to keep our eyes healthy and our vision sharp?
Just like sunscreen protects your skin, ultraviolet light treatment in glasses protects your eyes. Most prescription quality glasses will provide protection from ultraviolet light. Some sunglasses do as well.   How dark the tint is has nothing to do with UV protection because UV light is not visible. When you wear sunglasses, your eyes will dilate; or your pupil will widen. Therefore, if the sunglasses do not block UV rays, they can actually cause harm to your eyes. UV light can cause macular degeneration, retinal damage, ocular cancer, and accelerate the onset of cataracts. The American Optometric Association recommends you protect your eyes, whether wearing clear prescription glasses, or sunglasses, with 99-100% UV-A and UV-B radiation protection. Blocking out blue light, such as with amber colored lenses, may further protect your macula.
Baseball, lacrosse, shooting, and many summer sports can cause eye injuries, especially with the potential impact of high speed projectiles to your eye. Sports glasses are recommended for risky sports and always when shooting firearms. If you wear contact lenses, or are lucky enough to have perfect vision, please find the recommended eye protection for your sport.
Yard work and home improvement are activities some of us look forward to, and others dread. Regardless, the use of protective eyewear is very important if there is any risk of particles, paint, wood chips, grass, or other foreign bodies entering the eye. These types of injuries may be just annoying or could be sight threatening. Protective eyewear is readily available at local opticals and in most home improvement or sporting stores. Please put on protective eyewear before even turning on your power equipment.
According to Prevent Blindness, in 2016 about 11,000 people reported to the emergency room for firework related injury. About 9% involved the eyes. The best way to prevent fireworks injury is to attend only authorized public fireworks displays. If you are setting off fireworks, remember to use protective eyewear; regular glasses or sunglasses are not sufficient.
Please, consult with your eye care professional for proper protective eyewear to prevent injury. If you do find yourself with an eye injury, eye pain, or foreign body in your eye, please call your eye doctor (Optometrist or Ophthalmologist) immediately. They will give you further instructions. Most eye doctors will either see you after hours, if needed, or will have another eye doctor on call to see you. Do not delay care. Your vision is precious.
So please enjoy your summer, but be smart, and protect your eyes.
Submitted by Dr. Tracy Sepich, Board Certified Optometrist and owner of Restore Eye Care.